3D printers:

3D scanners:

Plastic filament production:

Plastic filament for 3D printing:
ABS
PLA
Nylon
PET
soluble plastic: HIPS, PVA
special ABS: color-changing, conductive
special PLA: "ninjaflex", "laywood", "rubber-like", "laybrick"

Laser cutting/engraving:
Nice-Cut NC-E6090 laser cutter/engraver (60W CO2 laser, cutting bed: 60cm x 90cm) link
Note: the laser cutter cannot be used before 5pm during working days. User training is required. / Attenzione: la macchina per taglio laser non può essere utilizzata prima delle 17 durante i giorni lavorativi. È necessaria una formazione per l'uso.

CNC:
home-built 3-axis CNC milling machine (470x780mm working area, 1000W, works with aluminum/wood/plastic. Software: Mach3) – will be operational soon
Note: the milling machine cannot be used before 5pm during working days. User training is required. / Attenzione: la fresa non può essere utilizzata prima delle 17 durante i giorni lavorativi. È necessaria una formazione per l'uso.
Roland iModela link

Plotters:
HP DesignJet 250C inkjet plotter (A1 size, color print, not yet operational) link
Silhouette Cameo electronic cutting machine (A3 size, vinyl/paper cut) link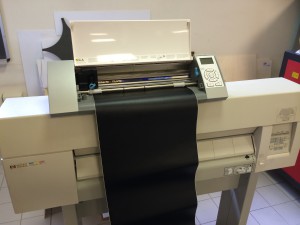 Micro-controllers and electronics:
Arduino (Uno, Mega, Yun) link
various shield boards, displays, sensors and actuators
breadboards and wiring
Raspberry Pi

 mini computer

soldering stations and tools
digital oscilloscope
multimeters, power supplies

Training area:
video projector, flat screen and blackboard, 25 seats always available  / videoproiettore, schermo piatto e lavagna, 25 posti sempre disponibili

Pictures / Immagini