The ICTP SciFabLab is located in the lower level (basement) of the Enrico Fermi Building (EFB), within the ICTP Miramare Campus. If you don't have the electronic badge, please ring the bell on the door.
Lo SciFabLab ICTP è situato nel piano seminterrato dell'edificio Enrico Fermi, all'interno del Campus ICTP a Miramare. Se non siete muniti di badge elettronico, suonate il campanello sulla porta.
The Miramare Campus is reachable by car (via "Strada Costiera"), bus (line number 6 from downtown Trieste) or train ("Miramare" railway station, but only a few regional trains stop here)
Il campus ICTP di Miramare può essere raggiunto in automobile (dalla "Strada Costiera"), con l'autobus (linea 6 dal centro di Trieste) o con il treno (stazione FFSS di "Miramare", attenzione che solo pochi treni regionali effettuano fermata).
The street address is:
L'indirizzo postale è:
ICTP Enrico Fermi Building
via Beirut 6
34151 Grignano TRIESTE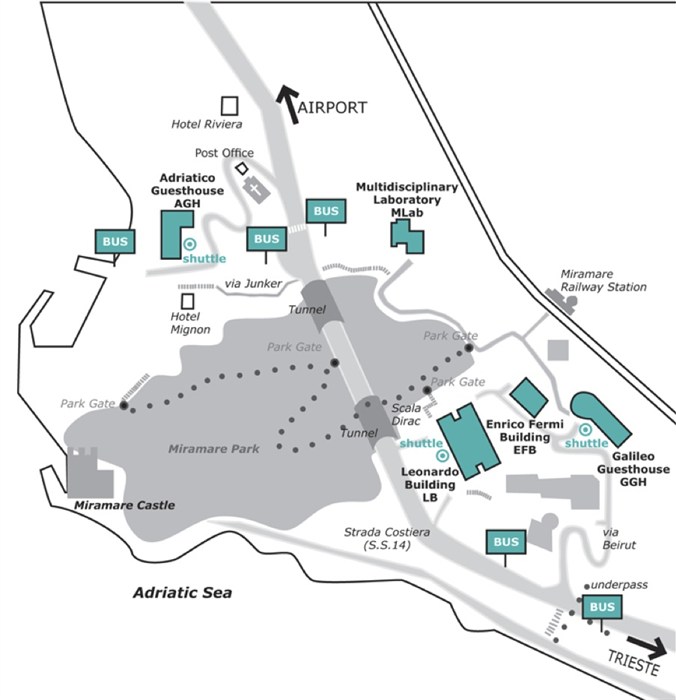 And the GPS coordinates are:
E le coordinate GPS sono:
N 45°42'17" – E 13°43'09"
Google Map