UPDATE for the Phase 2 of the Covid-19 Emergency / AGGIORNAMENTO per la fase 2 dell'Emergenza Covid-19
Access to the SciFabLab is only allowed to registered users and upon appointment by email. All visitors should follow the entrance procedure (their body temperature will be taken, and a self-declaration form should be duly completed and signed) at the main entrance point of the ICTP campus located at the Leonardo Building (Strada Costiera 11, Trieste), before entering the SciFabLab.
L'accesso allo SciFabLab è possibile solo per gli utenti registrati e su appuntamento tramite email. Tutti i visitatori dovranno seguire la procedura di ingresso (la loro temperatura corporea sarà rilevata, e dovranno compilare e firmare una autodichiarazione) all'ingresso principale al campus ICTP posizionato presso l'edificio Leonardo (Strada Costiera 11, Trieste) prima di poter entrare nello SciFabLab.
The ICTP SciFabLab is located in the lower level (basement) of the Enrico Fermi Building (EFB), within the ICTP Miramare Campus. If you don't have the electronic badge, please ring the bell on the door.
Lo SciFabLab ICTP è situato nel piano seminterrato dell'edificio Enrico Fermi, all'interno del Campus ICTP a Miramare. Se non siete muniti di badge elettronico, suonate il campanello sulla porta.
The Miramare Campus is reachable by car (via "Strada Costiera"), bus (line number 6 from downtown Trieste) or train ("Miramare" railway station, but only a few regional trains stop here)
Il campus ICTP di Miramare può essere raggiunto in automobile (dalla "Strada Costiera"), con l'autobus (linea 6 dal centro di Trieste) o con il treno (stazione FFSS di "Miramare", attenzione che solo pochi treni regionali effettuano fermata).
The street address is:
L'indirizzo postale è:
ICTP Enrico Fermi Building
via Beirut 6
34151 Grignano TRIESTE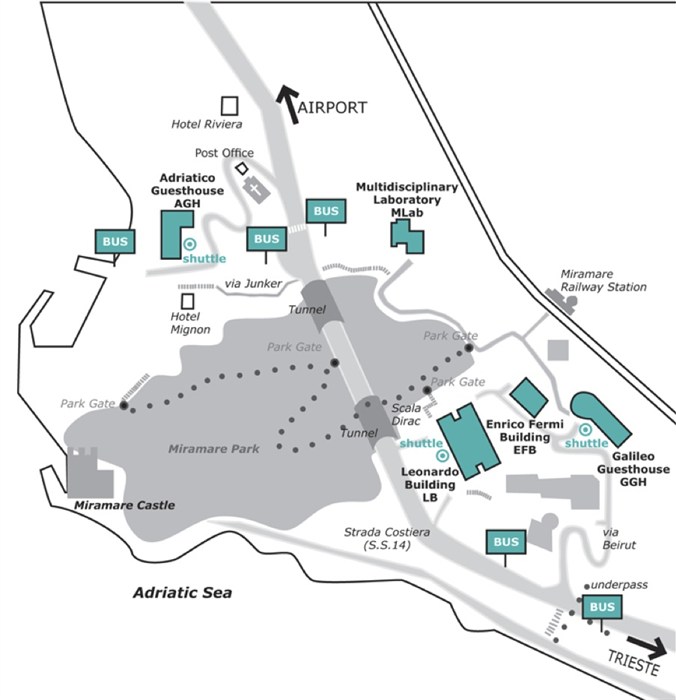 And the GPS coordinates are:
E le coordinate GPS sono:
N 45°42'17" – E 13°43'09"
Google Map